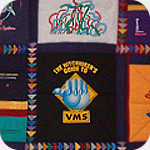 OpenVMS Commemorative Quilt

A commemorative quilt celebrating 25 years of OpenVMS hangs in the cafeteria at the Spit Brook Road facility in Nashua. Because the OpenVMS operating system was invented in New England, it is fitting that it now has a quilt to represent its history.

Sue Skonetski, manager of engineering programs, was inspired with the quilt idea at an OpenVMS ambassadors meeting last year. (The OpenVMS ambassadors are HP technical master level employees with 20+ years of experience working with the product.) Over the years Skonetski had accumulated shirts representing different product releases and events. "I remember thinking how cool it would be to have the shirts preserved," she said. Debi Marshall, an expert quilter and wife of the HP Australian ambassador Paul Marshall, offered to make the quilt. A request went out for shirt donations and the OpenVMS community responded quickly. "There is a tight network of people committed to the product, and there was a great response," she said.


The OpenVMS quilt was designed and created by Debi Marshall,
wife of HP Australian ambassador Paul Marshall

The quilt serves as a rich historic timeline of OpenVMS activity over the past 25 years. Many different symbols, including the logos for Digital, Compaq and HP, depict the evolution of the operating system and the company. A total of 46 different shirts or jackets were used to make the quilt. The top central piece of the quilt came from a denim ambassador jacket and has a gryphon with the words "best of the best" under the beast. Skonetski explained that a "gryphon is known as the protector of the treasure of the kings, and so was chosen to be the symbol for the ambassadors. HP customers and engineers consider OpenVMS a treasure, a beautiful work of art."


Many of the animal and bird designs from the shirts used in the quilt signify milestones for OpenVMS. For example, the Cheshire cat named Albert represents the VAX server, the first machine on which VMS ran. "Today there are over 140,000 customers that still have VAX VMS," said Skonetski. "Blizzard" was the code name for VMS version 7.1, and a patch from a work shirt sports a white tiger among snowflakes. "In the 90's the product was renamed OpenVMS; the shark denotes OpenVMS on the Alpha server," she explained. "There is a square that simply states in bold blue and gold letters 'Celebrating VAX OpenVMS at 20, Nothing stops it.'

When designing the quilt, Debi used her artistic talent to select a color scheme that coordinated with the predominant colors in the shirts. Colored fabric triangles, known as flying geese, are integrated with a navy blue border to unify the colors. Debi invested about 450 hours on the project, starting on February 24, 2003 and completing the quilt June 23, 2003. The quilt will be permanently displayed in the ZKO facility in Nashua, New Hampshire.
Sue Skonetski with the quilt
700KB [image courtesy of 'VAXMAN']
OpenVMS Commemorative Quilt
2MB [image courtesy of 'Colin Butcher']