HP OpenVMS Systems
What's new
HP OpenVMS Version 8.3-1H1 for Integrity servers and HP OpenVMS Version 8.3 for AlphaServer systems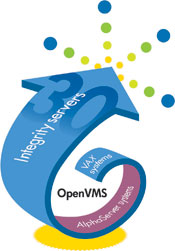 HP OpenVMS Version 8.3-1H1 supports the entire range of HP Integrity servers, from rx1620 through the HP Integrity Superdome, including the HP Integrity BL860c and BL870c server blades. This version includes expanded system management support for BL860c and BL870c server blades, and also contains support for the latest revisions of the Intel® Itanium® processors for these servers:
HP Integrity rx2660 server
HP Integrity rx3600 server
HP Integrity rx6600 server
HP Integrity rx7640 server
HP Integrity rx8640 server
HP Integrity Superdome server SD64B
Now you can have the rock-solid availability, disaster tolerance, security, and scalability for which HP OpenVMS is known—on your choice of HP Integrity BBL860c and BL870c server blades, or HP Integrity or AlphaServer systems hardware. You can also add new HP Integrity servers or BL860c and BL870c server blades running OpenVMS right into your existing AlphaServer cluster. Moving your applications from OpenVMS on AlphaServer systems to the HP Integrity platform can be as straightforward as recompiling, relinking, testing, and using.
Click here to go to HP OpenVMS Version 8.4
OpenVMS for HP Integrity servers
HP OpenVMS Version 8.3-1H1 new features and benefits chart
›
HP OpenVMS Brochure
› (pdf)
HP OpenVMS Version 8.3-1H1 on HP Integrity servers data sheet
› (pdf)
HP OpenVMS Integrity supported I/O options
›
HP OpenVMS Integrity options rollout
›
HP OpenVMS Alpha Version 8.3 and HP OpenVMS Version 8.3-1H1 for Integrity Servers SPD
›(pdf)
HP OpenVMS Alpha Version 8.3 and HP OpenVMS Version 8.3-1H1 for Integrity Servers QuickSpecs
› (pdf)
HP OpenVMS hardware support chart
›
HP OpenVMS migration software tools
›
HP OpenVMS cluster software
›
HP OpenVMS support for HP BladeSystem c-Class Integrity Blade (BL860c)
›
Documentation for OpenVMS
HP OpenVMS Version 8.3-1H1 new features and release notes
› (pdf)
HP OpenVMS Version 8.3-1H1 upgrade and installation manual
› (pdf)
Cover letter for HP OpenVMS Version 8.3-1H1 for Integrity servers
› (pdf)
Related information
HP OpenVMS rolling roadmaps
›
Software public rollout reports for HP OpenVMS
›
HP OpenVMS on HP AlphaServer systems to HP OpenVMS on HP Integrity layered product plans
›
OpenVMS Educational License Program
›
HP Integrity servers
›
HP AlphaServer systems
›
HP 9000 and HP Integrity server connectivity
›